As a motivational speaker, Lesley Andrew has spoken across North America about 'Beating the Odds – taking the responsibility for personal change and growth, overcoming obstacles, facing fears and attaining goals.'
A mixture of stories, poignant memories, humour, lessons to be learned and inspiration. Lesley's talks have been extremely well received by groups of all ages. A well known Canadian singer and actress, Lesley's seminars include a performance of songs.

Motivational Speaking Topics
Goal setting
Multiple intelligence
Exceptionalities
The handicap of giftedness
The gifts of being learning disabled
Finding Joy
Importance of art and music
Creative problem solving
Critical thinking skills
Use of humour
Developing organizational skills
Time management
Finding and being a hero
Anti-bullying tactics
Self-advocacy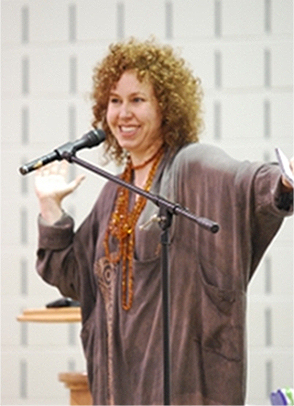 For more information about Lesley Andrew or to learn about availability, please contact me.
Did you ever find yourself having to thank a speaker and all you can think of is how to hold back your tears? Well, here I am. How will I ever do this? Lesley, I am standing here forcing back the tears of joy, appreciation and tears of thanks for having shared your story with us. She is a highly gifted individual who has kindly invited us into her life to share her feelings, her emotions and her successful struggle in beating the odds. Your passion, bravery and your compassion all contributed to our growth this afternoon. Lesley, this has been a powerful moment for me and I am now a better person for having been here. Thank-you, thank-you, thank-you.

– Peter Greenberg, Executive member, O.C.A.S.E
More Testimonials for Lesley Andrew – 'Beating the Odds'
A poignant presentation of the effect we have in students lives, both negative and positive ways. It is difficult to truly know all aspects of our students' lives, but we must remember that we can always be a positive influence, or caring person in their lives!
Wonderful presentation, beautiful voice, a pleasure to listen to.
Inspiring for the audience, captivating. Great teaching suggestions.
Excellent talk – excellent use of props – feel good. This was a special session for me. I think students should hear her. She should at least make a tape of presentation!
Well presented. Great speaker, attuned to emotional delivery.
"Beating the Odds." Useful information, positive/refreshing perspective on Special Ed kids and success.
Wow! (Level 4 went above and beyond expectations!) It is both reaffirming and scary to know the impact we have on our students lives.
Very informative. Absolutely phenomenal voice–very uplifting message.
A truly inspirational story demonstrating how anyone can triumph in the face of adversary. A great reminder that everything we say and do can have a lasting impact on our students.
Lesley's talk was inspiring, refreshing, enlightening and she was an eye opener. She made me aware of how much I am not doing for my students that I used to. A speaker well worth having in all schools for all students and teachers. For sure this has been one of the best inspiring talks I have heard.
Just what I needed. Lesley Andrew is such a fabulous motivating speaker, I kept getting goose bumps running through my body. I wish my own children could hear her speak.
I'm amazed at how comfortably she speaks of herself and her own experiences, a delightful sense of humor, thoroughly enjoyable and uplifting. I learn better in a personal environment, so that is what I do as a teacher. Her talk is very validating of the career I have loved for 30 years.
Gives excellent proof of what a learning disabled person can accomplish.
I love her voice, her philosophy of life (live it to the fullest) and the way she presents herself.
Thank-you making my day one of the most moving experiences of my life.